The worst consequences of the pilot shortage are still ahead of us, but not far. According to airline executives and industry experts the shortage that we have been discussing here for the last few years is upon us and it is reshaping future plans for the airlines.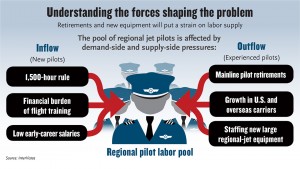 An informative article in the travel industry's influential news source Travel Weekly highlights these airline experts reports that unless new pilots join the industry soon we will see the airlines taking action never before seen to meet the demand for air travel.
"It's a crisis that is exploding right now," said Dan Akins, a transportation economist who two years ago co-founded the consulting firm Flightpath Economics in anticipation of the pilot shortage. "It's not going to get better. It's going to get worse. It's almost a contagion."

"Republic Airways, which operates as Delta Connection, United Express and American Eagle for the legacy airlines, has experienced monthly cancellation rates as high as 9% due to the pilot shortage, prompting Delta to accuse the company in an October lawsuit of not providing promised services.

Since 2011, the number of city pairs flown by U.S. regional aircraft has dropped by more than 12%, according to Bill Swelbar, who has analyzed the pilot shortage as a vice president of the Washington-based airline and airport industry consulting company InverVistas Consulting. But both he and Akins expect 2016 and 2017 to be a tipping point. And the problem, they say, will get worse quickly.

In a report about the pilot shortage released last year, Flightpath Economics projected that between 2014 and 2022, 18,000 pilots will retire from the Big Four carriers. That's as many pilots as staff the entire regional U.S. network, which also serves as the predominant recruiting network for the mainline carriers.

As mainline pilots retire, many will be replaced by pilots who today are flying for regional carriers. Those pilots, in turn, must be replaced by pilots coming out of flight-training schools or academies such as ATP. In addition, pilots must be added to the system to account for growth at not only the Big Four airlines but also at the rapidly expanding network of low-cost carriers, such as Spirit and Frontier.

Furthermore, those who do graduate from U.S. flight academies often have the option of chasing far bigger dollars, sometime well into six figures, on foreign carriers, and they can do so without obtaining anywhere near 1,500 hours of flight time, said Swelbar, who cited as an example the growing foreign airlines, such as Emirates (middle east) and ANA (Asia).
The pilot shortage that is the cause for so much concern is also the source of opportunity. A person beginning flight-training today to take advantage of the demand for new pilots can be flying for an airline in two years if the correct choice is made as to where to go for flight training.
ATP has been the leader in providing career-oriented flight training for over thirty years, providing a clear path from the beginning of flight-training to the cockpit of an airliner. Your decision to pursue a career in the airline industry is important, select the best source of training to achieve your goal. ATP.