Trans States Airlines recruiters came to ATP's national headquarters today to launch the ATP/Trans States Airlines Tuition Reimbursement Program. Trans States Holdings, operator of Trans States Airlines, Compass and GoJet, sent their Manager of Pilot Recruiting Hope Harkey to address the assembled pilots interested in being the first to join Trans States' Tuition Assistance Program as well.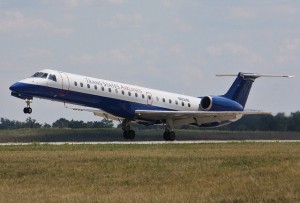 Captain Mike Swoboda led Trans States Recruiters in making a presentation to ATP Pilots about Trans States Airlines (TSA), their expansion plans and their desire to hire as many well-trained ATP graduates as possible to fly the additional aircraft TSA is scheduled to add to their fleet this year. The presentation was well received, and was followed by a lengthy question and answer period.
Trans States Airlines has joined Compass Airlines, GoJet and Mesa Airlines in reaching out to subsidize the cost of flight training for ATP graduates who become instructors for ATP. ATP Instructors who join the Tuition Reimbursement Program will have most of their student loan payments paid for by Trans States while the Instructor is still instructing for ATP. Once that Instructor reaches ATP minimums at 1500 hours of flight experience they will join TSA and begin flying for them. At that time, TSA will increase the payments to $500 per month and will continue to make payments for a year. The ATP graduate then will have made the seamless transition from non-pilot to student-pilot to instructor to flying in the cockpit of an airliner. And they arrived there sooner than any of their competition because they made the right choice when deciding who to trust to get them there: ATP Flight School.