Last week ATP representatives attended the annual Women in Aviation (WIA) Conference in Dallas, Texas and enjoyed speaking with thousands of conference attendees. ATP subsidiary, ATP Higher Power Aviation (HPA), was also represented at the WIA. The HPA display was also very popular since Southwest Airlines was in attendance at the conference and announced that they would be hiring 200-300 new pilots over the remainder of 2015 and 600 new pilots in 2016. Southwest Airline Pilots have a long history of obtaining their 737 Type Ratings at HPA.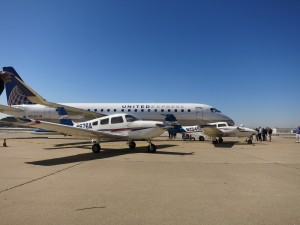 Many of the interested attendees at the conference stopped by our booth to ask about the newly announced and historic Tuition Assistance Program (TAP) offered by ATP in conjunction with Mesa Airlines.
Mesa Airlines and ATP Flight School have taken the first step to financially promote the pilot career with ATP's new Tuition Reimbursement Program. In this exclusive agreement, Mesa Airlines will offer ATP's current instructor group of 200 its tuition assistance program, Mesa TAP. In exchange, these pilots will commit to flying for Mesa Airlines upon reaching eligibility. Mesa also plans to invest in future student pilots through this innovative program.
Mesa is the first airline to invest in pilots as they build flight experience through ATP's Tuition Reimbursement Program. ATP students have access to numerous loan options for full financing of airline career flight training. This agreement will allow for a substantial portion of that payment to be subsidized by the pilot's future employer, Mesa Airlines.
"This is the first program that truly promotes the pilot career. It provides a solution to the pilot's loan repayment responsibility and will help them make a decision to enter into one of the most rewarding careers with tremendous long-term earning potential," said Derrick Dennis, ATP's President.
Since 2013, Mesa has grown significantly – doubling the size of the company, creating 900 new positions, and providing job security and enhanced opportunities for all its employees. With 10 more E175s and seven CRJ900 NextGen aircraft currently scheduled for delivery in 2015, Mesa's fleet total will grow to 115 aircraft this year. Mesa is currently staffing crew bases in Phoenix, Dallas/Fort Worth, Houston and Washington Dulles.