The increasing shortage of airline pilots continues to make headlines in the US and around the world. A recent article in Aviation Week & Space Technology summarizes the lack of qualified pilots in this way:  "From a top-down view, large airlines will have to replace more than 18,000 pilots due to mandatory age 65 retirement over the next seven years, along with hiring pilots for newly delivered aircraft."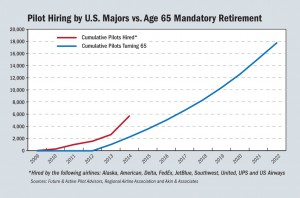 "The result is a situation that could force the industry to park aircraft or defer deliveries as the pilot ranks decrease and opportunities abound for those that remain in the business. Some regional airlines are reporting that pilot candidates are not showing up for interviews or training classes, presumably because they are able to choose the best of several options without notifying the others.
A Delta representative speaking at a recent jobs summit in January said the carrier is concerned about what it calls a "limited pool of applicants," adding that it had already hired "the cream of the crop for now, but that will be forced to change as the applicant pool decreases."
In the "pool" are 6,000-7,000 regional airline pilots who are the most desirable, with 1,000 hr. or more of turbine pilot-in-command time. "All the majors are pulling from this pool of pilots," says Rocky Calkins, manager of pilot hiring for Southwest Airlines. Another participant says airlines have "reached the bottom of the applicant pool."
The demand for new airline pilots entering the industry has never been greater and neither has the opportunity been greater to begin a lucrative career as an airline pilot. The quickest and most direct path to an airline career is available by training with the flight school with the most success in helping pilots achieve their career goals. Want to fly for the airlines? Get there first by training with ATP.