In early August, I wrote about three close friends who did their flight training with ATP and then went on to instruct for us together at our Daytona Beach Flight Training Center. Sherry Shoemake, Louis Valasquez and Vince Viorde were hired at the same time by Republic Airlines through Republic's Pipeline Program with ATP. All three then went to Indianapolis together to begin new-hire training so they can fly the new Embraer E175's that Republic is acquiring.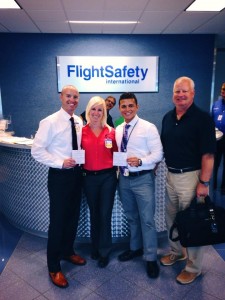 Sherry, Louis and Vince left Daytona Beach and traveled to Republic's headquarters for the first stage of training, Company Indoctrination (Indoc). There they learned all of the policies governing the company along with its corporate culture. These classes also include topics that are common to all of the airline's fleets such as company operating rules and standard procedures.
After Indoc, the three went to systems training where they learned all about the E175's equipment and systems. There they learned detailed information about the aircraft's engines, the flight controls, the electric system, the hydraulic system and pneumatic and fuel systems to name a few.
Then they went to the Sims where they worked in full-motion simulators that replicate most of the sensations of flying a real aircraft without the risk. There they learned how to operate the E175 safely during the day to day operations for Republic. They also learned how to react safely to emergencies such as engine failures or fires in flight and how to get the aircraft safely back on the ground once they have handled the emergency.
Recently I have heard from these three again, and they have all successfully become newly minted airline pilots with new ATP Certificates and type ratings in the Embraer 170/190 series of aircraft. They will now enter the last phase of their training which is Initial Operating Experience (IOE) where they will fly in uniform on revenue flights with experienced training Captains. These IOE Check Airmen will complete the training of these three by showing them how to apply everything they have learned in training to flying the E175 in passenger service.
We are all proud of Sherry, Vince and Louis here at ATP. They came to us not long ago with no experience in aviation. Five months later they had each acquired all of their FAA Certificates and Ratings and began building quality flight experience flying and instructing for ATP. Less than two years later they are First Officers flying the best aircraft in the industry for Republic Airlines. Once they decided to begin careers flying for the airlines, they got there first by taking the most direct path to flying careers. They did their research and then signed up for flight training with ATP.