In February of 2010, ATP's recruiting partner Republic Airways and aircraft manufacturer Bombardier signed a firm purchase agreement for forty next generation of Canadair regional jets, the CS300. Republic also arranged for options to buy an additional forty CS300s when the aircraft begins production.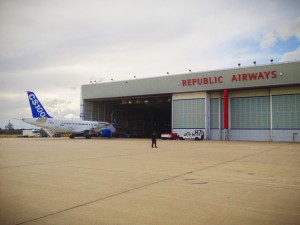 Earlier this month Bombardier CSeries Flight Test Vehicle Four (FTV4), which is currently deployed to Wichita Kansas for flight testing, flew to Republic's headquarters at Indianapolis International Airport where it was showcased to Republic Airways' employees, leadership team and board members.
"This was a wonderful opportunity for my technical team to get an up-close view of the CSeries, especially of the flight deck which is revolutionizing air travel," said Bryan Bedford, President and Chief Executive Officer, Republic Airways. "It was thrilling seeing this quiet game-changing aircraft in person and it's proving to be everything we've hoped it would be."
Currently 120 ATP graduates have been hired at Republic. Many of them will be flying these new CSeries aircraft when they come on line. Republic has partnered with ATP to hire the best trained pilots entering the airline industry today, the pilots who have trained with ATP. These pilots all knew that when it comes to the airlines, seniority is one of the things that will govern much of your professional life. When you decide to take advantage of the opportunities available to begin a lucrative career flying for the airlines, get there first with ATP.