As I mentioned last week, Endeavor Air is partnering with parent company Delta Air Lines to attract the best pilots to both carriers with a new hiring program. Beginning June 15, the new Endeavor-to-Delta Pilot Hiring and Commitment Program (EtD Commitment) will use Delta's rigorous hiring protocol to insure that every new Endeavor pilot will receive a commitment to be hired by Delta.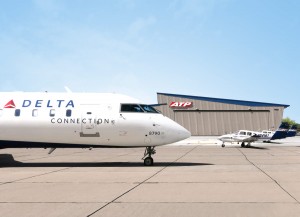 After I reviewed the program in more detail I began to see what a unique opportunity this presents to people aspiring to work for a legacy airline. This new program creates a direct path from a point at the completion of flight training to flying for a legacy airline, with assurances that have never been offered before. This is not a "flow-through" program that a few other airlines have tried in the past. This is a case of Delta raising the bar and getting directly involved with recruiting for their regional partner by guaranteeing that pilots flying for Endeavor will end up flying for Delta in short order. The other legacy airlines will have to follow along and offer similar programs in order to compete for the best pilots.
Ryan Gumm, president of Endeavor Air, said this is a first for the industry. "No other regional airline is providing new pilots with this level of commitment for future employment with a mainline carrier," he said. "Identifying a clear career path is vitally important to pilots, and we've designed this program to help position Endeavor as a natural first choice for the best pilots."
Don Bornhorst, senior vice president – Delta Connection at Delta Air Lines, said this is a good move for both airlines. "With this unique hiring program, Endeavor will attract career-focused pilots. Delta also will benefit from the future employment of pilots who have been selected and trained to our high standards, have demonstrated performance and experience at Endeavor, and have a clear understanding of the Delta brand."
The EtD Commitment will, along with an existing screening program for current Endeavor pilots, fill approximately one-third of Delta's future pilot hiring needs. Delta expects to hire thousands of pilots in the coming years as many of its current pilots reach mandatory FAA retirement age. The EtD Commitment will serve as one pathway to a pilot career at Delta along with the traditional application process through which Delta has thousands of qualified applicants competing for positions.