Endeavor Air has announced that they are partnering with Delta Air Lines, which owns Endeavor, to increase the recruitment of pilots at both Endeavor and Delta with a new hiring program. Beginning June 15, the new Endeavor-to-Delta Pilot Hiring and Commitment Program (EtD Commitment) will begin to screen prospective new-hire pilots for Endeavor which will allow every new Endeavor pilot hired under this program to receive a commitment to be hired by Delta as soon as they meet Delta's hiring requirements.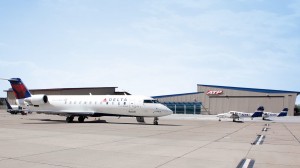 The EtD Commitment will allow Endeavor to use Delta's screening and interview process to hire pilots based on the same standards used by Delta to hire their pilots. Personnel from Delta will participate in the selection process for Endeavor pilots. Endeavor pilots hired under the EtD Commitment and whose experience at Endeavor meets Delta's standards will be hired by Delta based on seniority at Endeavor.
An article in The Minneapolis Star Tribune reported on the new program:
Delta Air Lines, through its Twin Cities-based Endeavor Air regional subsidiary, plans to establish a pilot hiring plan that will essentially guarantee a career path for qualified Endeavor pilots to the larger, better paying international carrier.

"No other regional airline is providing new pilots with this level of commitment for future employment with a mainline carrier," said Endeavor President Ryan Gumm in an interview with the Star Tribune. "Identifying a clear career path is vitally important to pilots, and we've designed this program to help position Endeavor as a natural first choice for the best pilots."

Don Bornhorst, Delta's senior vice president in charge of commuter airline affiliates, said this is an advantage because Endeavor will attract career-focused pilots. Delta will benefit from the future employment of pilots who have a clear understanding of the Delta brand, he added.

"Delta is hiring in a way that it hasn't for over a dozen years,'' Bornhorst said. "Airlines are very seniority-based. And now, once you are with Endeavor, assuming you pass your training, you'll go to Delta and become a first officer."

Delta is hiring about 600 pilots annually as it expands its operations while compensating for the loss of baby boomer pilots who must retire under federal regulations by age 65.

Nationally, a shortage of pilots is emerging, in part, because of federally mandated increases in the hours that prospective regional-jet pilots must fly before they can be hired by a carrier such as Endeavor.

Paul Templeton, a former Piedmont Airlines captain and regional jet program director for flight-training school ATP, said Tuesday that he was impressed at first blush with the Delta-Endeavor commitment, but reserved judgment until he learns more of the details.

He noted that American Eagle, which connects with American Airlines flights, also has a flow-through pilot hiring agreement between the carriers.

"Endeavor, which has not been hiring, is back in the game," said Templeton, also a blogger on regional carriers at www.pilotjobs.com. "Delta is doing what it can. The major airlines and regionals are facing a severe pilot shortage that's really come on in the last year or two."

The Air Line Pilots Association, the union that represents Delta and Endeavor pilots, declined to comment on Delta's joint-career plan on Tuesday.

Endeavor, formerly known as Pinnacle Airlines, has about 4,000 employees, including nearly 2,000 pilots. It pays its pilots from $35,000 to $100,000 a year, depending upon seniority and type of aircraft. About 400 headquarters employees are based at Minneapolis-St. Paul International Airport.