The Chairmen of unions representing the 13 largest regional airline pilot groups in the US and Canada released a letter announcing the formation of a group in which all of these unions will coordinate their negotiating efforts and support each other in the effort to improve pay rates and working conditions at all of the Regional Airlines.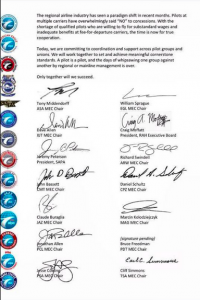 The Chairmen of pilot unions from Atlantic Southeast Airlines, Expressjet, SkyWest, Republic, PSA, TSA, Mesa, Envoy Air (formerly American Eagle), Endeavor Air (formerly Pinnacle Airlines), Compass Airlines, CommutAir, Air Wisconsin and Canada's Jazz Airlines have all signed the letter promising to prevent airlines from pitting the pilot groups against each other in order to force concessions and lower wages.
The letter reads in part:
"The regional airline industry has seen a paradigm shift in recent months. Pilots at multiple carriers have overwhelmingly said "NO" to concessions. With the shortage of qualified pilots…, the time is now for true cooperation.
Today, we are committing to coordination and support across pilot groups and unions. We will work together to set and achieve meaningful cornerstone standards."
The former American Eagle Airlines pilots and the pilot group from ExpressJet recently voted down offers from their management groups which asked for these concessions.
On another front, pilots from Republic rejected a contract offer that would have actually raised pay, and improved on some work rules.
In an article on the Motley Fool investing website, they report that "Regional airline pilots have been frustrated about low wages for years. However, changes in federal regulations have simultaneously increased the demand for pilot labor while shrinking the supply of qualified pilots. Pilots are now exploiting their newfound bargaining power to quash deals that don't provide adequate raises (let alone deals that try to reduce pay or benefits)."
It looks like the pilots will be the real winners in this situation, and flying for the regional airlines will improve as each pilot group uses their new leverage to acquire better contracts then in the past.