ATP has seen graduates of its Airline Career Pilot Program gravitate to great flying jobs in every part of aviation, including proudly flying for the best military in the world. Lieutenant(JG) John McFerren is just such an aviator who is also an old friend of mine and he wrote to me to let me know how he went from a student at ATP to flying for The Red Lions of HELSEACOMBATRON FIFTEEN.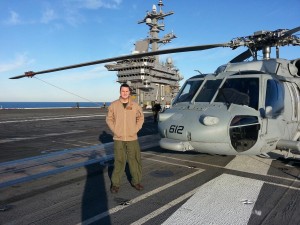 I want to share his experiences with you, because it shows that the love of flying (not to mention the love of your country) can take you many places:
Hi Paul,
I started ATP in May 2007 on the Airline Career Pilot Program, then became an instructor in RIC at the completion of training and then enrolled in the Regional Jet Program in late summer with you. I did the Interview Prep Course with ATP before going to American Eagle Airlines in November 2007. I had a strong desire to serve our country in one way or another however, so I took a position with the FAA as an air traffic control specialist for Dallas approach control.
I learned a great deal about the National Airspace System (NAS) operations and the massive amounts of coordination efforts behind the radio. I loved working for the FAA, challenging and a great feeling of accomplishment everyday knowing you were bringing thousands of loved ones to their families. But I had to leave and chase my childhood dream job of being a Military Pilot.
I got accepted by the US Navy to go to flight school. In the Navy you are an Officer 1st, Pilot 2nd; which translates into having multiple jobs outside of being a pilot. The training pipeline started in Rhode Island with Officer Candidate School 12 weeks of "Getting the Nasty Civilian Out" of the Navy's newest officers. Then, it was off to Pensacola for indoctrination training involving physical fitness training and academic training. At the completion of indoctrination training you get the honor of wearing your first flight suit. Next I traveled to Corpus Christi, TX for Primary Flight Training in the T-34 Turbo mentor. This aircraft was a step backwards from the training at ATP, stream gauges, no ILS, and only a swing needle for a VOR. It was challenging but a fun older aircraft to fly. I volunteered for the Helicopter pipeline, because the Navy was short on HELO pilots. The Navy and Marines call helicopters HELOS not Choppers. I soon was transferred back to Pensacola, FL for Advanced Helicopter training in the TH-57. Helicopters are a different beast then flying fixed wing. You become very aware of where the wind is coming from AT ALL TIMES! Learning to fly with night vision devices (NVD) after all these years is amazing. NVD greatly increase your SA at night time. Because of the solid foundation of training from ATP, I managed to graduate flight training as a Distinguished Graduate, top 4% of both Primary and Advanced flight training programs.
I then traveled to San Diego to learn to fly the MH-60S. This aircraft is a twin engine helicopter with multiple missions. We can transport cargo, personnel, support seal/EOD missions, fire HELLLFIRE missiles, .50 cal, 20MM cannon, 2.75 inch rockets to name a few. We do most of our flights below 300'AGL for hours on end, add in some mountains, NVDs and 8 SEALs in the back, FUN!! I am currently with Helicopter Sea Combat FIFTEEN HSC-15. I am currently Personnel Officer insuring the whole command pay and records are up to date and correct. As a junior officer your jobs will change from Admin, operations and Maintenance to make officers well rounded.
So, this is a general description of my training over the years. I have learned aviation has many different facets. It really is endless on the opportunities and experiences.
V/R,
LTJG John Mcferren
HSC-15 Red Lions