SkyWest Airlines recently brought ten of ATP's Instructors to be inducted as Cadets at SkyWest. The group of ten were flown positive space to SkyWest's main facility in Salt Lake City where they went through company indoctrination, were given drug tests and photographed for SkyWest company IDs and brought on as SkyWest employees.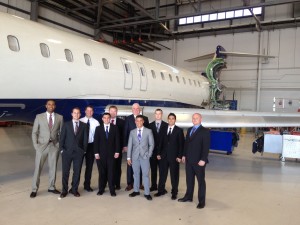 These new Cadets were brought into SkyWest's Cadet Program with as little as 600 hours of total time and will return to ATP to instruct until they have 1500 hours of flight time. SkyWest will mentor their Cadets while at ATP, and as soon as a Cadet has 1500 hours, they will return to SkyWest to undergo new-hire training and become First Officers.
Students beginning flight training at ATP today will become the next Instructors at ATP, and then will become a part of the Cadet Program at SkyWest if they desire. They will have earned all of their FAA Certificates and Ratings, and then instructed at ATP until they have 1500 hours of total time, and all of that will have been accomplished in under two years from beginning flight training at ATP to entering training at SkyWest.
Seniority is the most important thing to any airline pilot. Get their first with ATP.