The best part of my job is helping pilots get jobs with the airlines. It has been happening a lot lately, but it never gets old to see a pilot struggle for years and then suddenly succeed. Eric Swinkels is a perfect example. Eric came to this country many years ago from The Netherlands to begin his journey to the cockpit seat on a CRJ-900.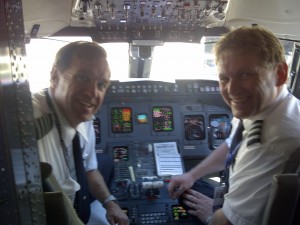 Eric came to ATP for help in November of 2009, and enrolled in ATP's Regional Jet Certification Program. Eric did very well in the RJ Program but as he finished his training our country began a long slide into economic recession. In short no airlines were hiring and the trend promised to continue, it was the beginning of some hard times as far as being hired to fly for an airline.
The recession finally abated, and the airlines began hiring again. The airlines turned to ATP for recruiting help and we began to see pilots once again being hired into good flying jobs with the airlines. At that time Eric was interviewed and hired by one of ATP's Regional Partners, Mesa Airlines, and sailed through New-hire training without any problems. Eric now has made it through I.O.E. (Initial Operating Experience) and is now flying the line as First Officer on the CRJ-900. This is an email from Eric:
Hi Paul!
As you can see I made it through IOE and recently hit the line with Mesa Airlines.
Thanks to to all your professional help and great instruction in the CRJ Regional Jet Program, which helped me ALOT in getting through the Sim training without any extra Sim sessions. And that is what the airlines like to see too!
Thanks Paul and the rest of the whole ATP team! Keep up the good work!
Eric