The love of flying can take pilots to many far-flung places and doesn't always lead one to a career in the Airline Industry. I have watched many graduates from ATP head to the cockpits of airliners literally around the world, but I have also watched many head to corporate flight departments as well as cargo and charter operations. One story I want to share with you is about Eric Brill who has gone from flight training with ATP to becoming the new Chief Pilot of the largest seaplane operation in India.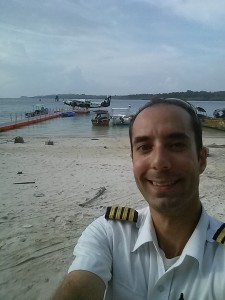 India's Maritime Energy Heli Air Services (MEHAIR), who has pioneered the launch of seaplane services in India since January, 2011, recently recruited Captain Brill as its Chief Pilot and Flight Instructor.
Captain Brill was previously employed at the world's largest operator of seaplanes in the Maldives, and earlier in his career Eric had been flying Caravan Seaplanes in Guyana. Eric had earned much valuable experience prior to that flying skydivers over jump zones in the US.
Eric had also been flying Caravans in passenger airline service for Mokulele in Hawaii after his flight training with ATP, as well as earning his Masters Degree in International Business from my alma mater (University of Colorado – Denver) and basic flight training with ATP in Florida.
"In addition to thousands of hours of flight time experience in the planes we operate," said a MEHAIR spokesperson, "Captain Brill brings years of seaplane-specific experience from the biggest company flying these specialized aircraft in the world. His aviation experience is enhanced and supported by an academic background which includes a Bachelors Degree and a Masters Degree in International Business from US universities. Our need for a Chief Pilot and Flight Instructor and Captain Brill's resume, experience, background and personality matched seamlessly. He will have a significant role in the development of India's next generation of seaplane professionals as he will personally be instructing and mentoring our seaplane pilots right here in India. We are thrilled to have successfully acquired such industry leading and well qualified talent."
When asked about his recent appointment as Chief Pilot of MEHAIR's seaplane operations, Captain Brill said, "I am deeply honored and incredibly excited to be part of such rapid growth and development of both MEHAIR and India's tourism sector, which I am confident will benefit significantly and substantially from the expanding seaplane service in India that MEHAIR is designing and implementing. Having an opportunity to work with India's future seaplane pilots is also very rewarding. The welcome I have received from the MEHAIR team has been so genuine and warm that it seems their excitement at having me here is only surpassed by my own enthusiasm and gratefulness in being invited to witness firsthand how the romantic and scenic aspects of seaplane travel will help open India even further to tourism while significantly contributing to its economy while doing so. I look forward to the future with great anticipation, and I extend a personal invitation to all to join us for a lifetime memory of a seaplane flight soon! I guarantee you will carry the breathtaking and beautiful experience of water flight with you for years and years to come."
ATP would like to offer our proud congratulations to Captain Eric Brill and wish him and Mehair much success in the future.