I read a very interesting article in USA Today that speaks about the current pilot shortage and how it will be getting worse. It is a great time to be an airline pilot! I want to share a few excerpts from the USA Today article: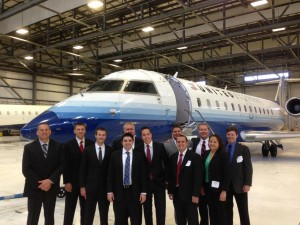 As airlines plan to hire hundreds of new pilots, industry officials warn that a shortage looms because of retirements, greater training requirements and longer rest periods between shifts.
American Airlines, which is reorganizing in bankruptcy court while proposing to merge with US Airways to become the world's largest airline, announced plans this week to hire 1,500 pilots over five years.
Capt. John Hale, American's vice president for flight, said the company is excited to build its team through hiring and recruitment, with greater opportunities expected after the proposed merger.
A month ago, United Airlines announced it would recall nearly 600 pilots, the last to return from furloughs in 2008, to fill gaps from retirements and rest rules.
But a pilot shortage is looming because of increased training of pilots, extended rest periods for pilots and a mandatory retirement age of 65, which was extended from 60 in 2007. The lure of foreign airlines in China or elsewhere could also reduce the domestic supply of pilots.
Kent Lovelace, chairman of the aviation department at the University of North Dakota, studied pilot retirements, surveys of potential pilots and projected a shortfall of 35,000 pilots in the next 20 years.
"I know regional airlines are having challenges right now," Lovelace said.
That study didn't factor in a Federal Aviation Administration rule that took effect Aug. 1, requiring 1,500 hours of flight time for all co-pilots, to match the minimum requirement for captains. The rule grew out of the fatal Colgan Air crash in 2009 that killed 50 people and was partially blamed on pilot training.
There are exceptions for military pilots and graduates of four-year colleges, but airlines are reluctant to hire pilots who aren't close to the requirement.
"It remains a pressing concern. It should be a pressing concern not just for airlines, but for any community that isn't in the top 30," said Roger Cohen, president of the Regional Airline Association. "If they're not concerned about losing air service, they ought to be."
Clair Tosino, who flies nearly every week as a consultant from her home outside Columbus, was heading home from Boston through Chicago on Aug. 23. But she said her American Eagle connection at O'Hare was canceled for what was announced as a lack of an "available" co-pilot.
As an executive-platinum member, she was rebooked on another flight an hour later.
"Nonetheless, I got home late with more or less a wasted evening at the airport," Tosino said.
A spokesman for American Eagle said the problem was not caused by the new training rule and said the airline finished its new qualification program early.
The training requirement remains a concern generally for regional airlines. Cohen noted that reaching 1,500 hours would require flying three hours per day, five days a week.
"That's an enormous amount of time," Cohen said. "That's pretty daunting."
"Students want a defined path," said Lovelace, the professor.
ATP's students have that defined path. When a student begins flight training with ATP, they know that they will be recruited by Regional Airlines such as SkyWest, Republic and American Eagle before they even finish flight training. ATP places them on the path to the Airlines by arranging financing and anything else the student will need to go from zero flight time to flight instructing to flying for the airlines in less than two years, compared to the six years it takes to get through a university program.
Seniority is everything in the Airline Industry, get there first with ATP.