American Airlines continues to modernize its fleet in preparation for a merger with US Airways, and today the carrier introduced a new airplane into its livery: the Embraer 175. The Brazillian-made large regional jet will be operated under the American Eagle brand by Republic Airways and will initially fly out of Chicago to New Orleans, Pittsburgh and Albuquerque. As the American Airlines receives further aircraft, service will be expanded around the country and eventually to other regional airlines departing Chicago.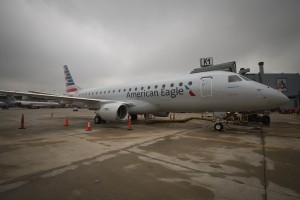 American's E-175s feature a two-class configuration with 12 First Class seats and 64 Main Cabin seats, including 20 with Main Cabin Extra (MCE). The E-175 has the largest First Class cabin in American's regional fleet and is the first to feature Main Cabin Extra seating, offering customers more legroom and priority boarding. The aircraft also features modern cabin elements including full-size overhead bins, spacious lavatories, leather seating and adjustable headrests.
Republic Airways, a longtime partner of American Airlines and the largest operator of large Embraer jets, currently operates regional jet service for American in Chicago with 15 Embraer E-140 aircraft through its Chautauqua Airlines subsidiary.
"Preparing for this momentous event has involved hundreds of employees both at Republic and American," said Republic Airways Executive Vice President and Chief Operating Officer Wayne Heller. "I want to thank the team at American and our people throughout our network who have worked so hard developing the program for today's launch. We all are very much looking forward to growing our longstanding relationship with American Airlines."
Notably, each seat is equipped with A/C power, and the aircraft will be installed with wireless internet as installation schedules permit. Nobody at the launch could pin a firm date to when wireless installations will commence.
American plans to begin service on select routes starting tomorrow, August 1st. Two aircraft will be delivered each month, and as the fleet grows, service will expand to Kansas City, Minneapolis, Toronto and Washington DC.