The figures have been released showing just how many Legacy Airline pilots will be forced to retire due to reaching the mandatory retirement age of 65 years old, and those retirements begin December 17th of this year.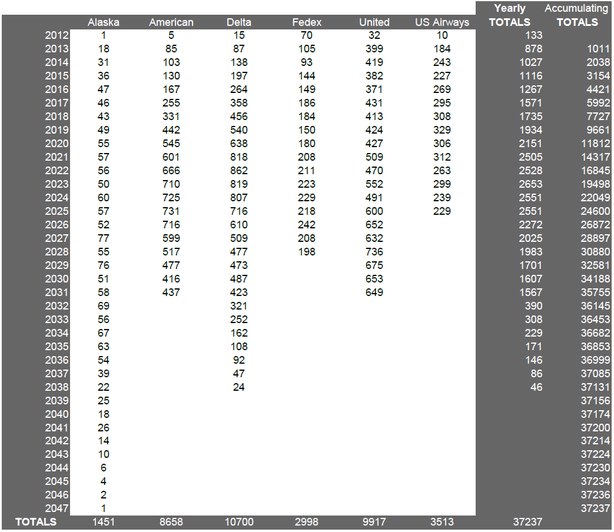 The figures indicate that the largest and longest hiring spree in the history of the Airline Industry is beginning. The numbers also show that there will be much upward mobility as pilots will ride the hiring wave to new heights on their respective seniority lists. The results will be faster upgrades to Captaincy as well as increased movement from the Regional Airlines to the Major Airlines.
The chart above shows that the Airline Industry will lose over one thousand pilots in the first full year of retirements under this FAA Regulation. Retirements will grow exponentially, with the Airlines losing over 3,000 pilots by 2015. Over 11,000 pilots will be leaving the highest levels of each airlines seniority lists by the year 2020.
The numbers shown on this chart stretch the imagination as over 34,000 of the aviation industries most experienced airline pilots will retire by the year 2030.
These figures don't reveal the entire problem as these retirement numbers are just from the Major Airlines. The Regional Airlines will be losing pilots at the same rate comparatively and that is where the real trouble begins.
The Major Airlines will get the pilots that they need to hire as they will simply recruit senior pilots from this country's Regional Airlines. It is the Regional Airlines who will be searching for freshly trained pilots to fill their New-hire Training classes.
Needless to say the Airline Industry in this country, and the rest of the world for that matter, are and will be into the future, looking for people who will begin to train for the pilot shortages that are certain to develop due to these forced retirements.