American Eagle used PilotPool.com recently to announce to the pilots there that they were lowering their hiring minimums, and that Eagle would be paying for pilots they hire to take ATP's Regional Jet Standards Certification Program before they begin training with Eagle. That is a great endorsement of ATP's RJ Program for sure, but it is also an endorsement of PilotPool.com.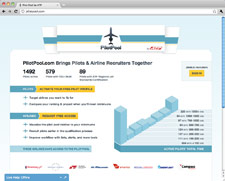 PilotPool.com is a completely new concept designed to link airlines to pilots much sooner than has been possible in the past. PilotPool.com allows pilots to upload their resume as well as profile information about them, to attract the attention of the growing list of airline recruiters that frequent PilotPool.com looking for pilots. Recruiters use PilotPool.com as a point of first contact with that pilot to begin following their progress through flight training until the pilot reaches the point that the airline wants to interview them.
Once a pilot has their profile information published on PilotPool.com they can easily see where they rank among their fellow pilots. For example, the more multi-engine experience a pilot has, the higher in the ranking they will be. This allows a pilot to focus on obtaining the training or experience that will move them up in the ranks and attract more attention from airline recruiters. ATP Airline Career Pilot program students have an added benefit—the flight time being accrued in the program is auto-loaded through ATP's system into PilotPool.com.
A pilot using PilotPool.com will be notified when a recruiter has accessed their profile or downloaded their resume. Likewise, recruiters can make sure that they are notified when a pilot they have been tracking reaches a certain milestone in their flight training or career that meets their airline's hiring criteria. The recruiters can then use PilotPool.com to contact the pilot and arrange for an interview.
PilotPool.com is an answer to a problem that both airlines and pilots have never had before. Due to circumstances relating to the rapidly increasing pilot shortage, airlines will have to begin their recruiting activity much sooner than they have in the past as they compete with each other for the shrinking group of qualified pilots. PilotPool.com allows them to make that contact in a timely manner and allows them to build a relationship with a promising student before they are even qualified to work for the airline.
PilotPool.com is a fresh answer to a new problem. Train in any program with ATP and gain access to this new pilot recruiting tool that serves both Pilots and the Airlines looking for them.