After a difficult year battling the recession, the airline industry appears to be headed toward a recovery as fuller planes, fewer discounted fares, lower fuel prices and revenue from a variety of formerly free services start to pay off according to The Wall Street Journal.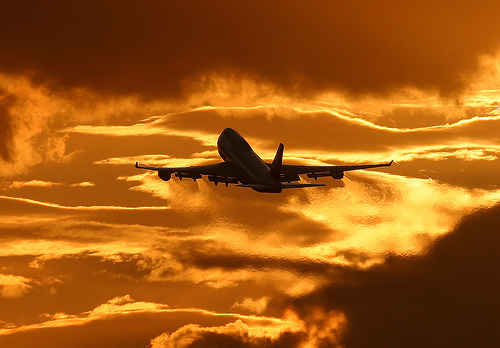 The signs of improvement are most advanced at low-fare carriers that focus on domestic flights. Passenger miles and unit revenue—the money taken in for each seat flown one mile—at discount king Southwest Airlines Co. soared 12% last month from a year ago.
But other large carriers with higher embedded costs and more exposure to troubled international routes also reported improvements as traffic aboard U.S. carriers rebounded more sharply than expected in November.
U.S. airlines have removed one out of every 10 seats flying between January 2008 and the schedules they have filed for January 2010, according to the Air Transport Association. The drop in domestic seats this year is the largest since 1942, and it takes capacity back to 1998 levels, said John Heimlich, the trade group's chief economist.
Fares also have a lot of ground to make up. The average roundtrip fare in the second quarter was $301.26, almost flat with 11 years ago, when it averaged $300.99. If air fares had kept up with inflation, this year's second-quarter fare would have been $417.88, Mr. Heimlich said.
But airlines have raised billions of dollars of new debt and equity since the summer, encouraging investors and easing concerns about potential bankruptcy filings. Some smaller carriers landed in the black in the third quarter, and the industry is generating new revenue by charging for checked luggage, preferred seats and other services that once were included in the price of a ticket.
Fuel prices, while still high historically, are almost 50% lower than their mid-2008 peak.
Business travel—the higher-yielding component of the airlines' customer mix and the one hit hardest by the recession—also appears poised to bounce back, according to several surveys of corporate travel managers.
Nearly seven in 10 travel managers surveyed by the National Business Travel Association expect business travel volume to grow next year, and 56% project total spending will increase, according to the group's October report.
Scott Kirby, US Airways Group Inc.'s president, said last week that close-in bookings, typically made by business fliers traveling at the last minute and paying higher fares, continue to improve. The carrier's revenue from corporate travelers is already increasing in year-over-year comparisons, thanks partly to higher ticket prices, Mr. Kirby said.
US Airways said its total unit revenue in November was flat, a huge improvement from earlier this year, when it was down by double-digit percentages.