The U.S. airline industry finds itself in a pleasantly surprising sweet spot these days. While the economic recession is wreaking havoc on industries which have done better in tough times historically, U.S. airlines have found themselves in very good shape and returning to profitability so that they can begin to grow once more.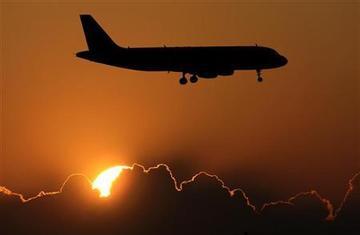 That is welcome news for carriers whose well publicized downsizing, in response to record high fuel prices last year, ended up helping them cope with slumping ticket sales later.
"That was only serendipity that the capacity cuts came at the same time that traffic started to drop," said independent consultant Michael Boyd. "They didn't see the demand drop any more than anybody else. They were just planning on flying fewer airplanes and fewer seats because of oil prices."
Major airlines like Delta Air Lines, American Airlines and United Airlines cut capacity last year to offset fuel prices that rose to record highs in July of 2008. Airlines instituted fees for handling baggage and other services to make up for the shortfall caused by the sudden increase in fuel costs. When oil prices fell back to $40 per barrel in the second half of 2008, airlines reaped big benefits. They also left their fees in place, which has added millions of dollars to their bottom line.
"The airline industry is better postured to get through this mess than a lot of other industries are," Boyd said. "(Airlines) look a little luckier."
U.S. carriers even look good compared to the global airline industry. A rebound in the U.S. dollar in the second half of 2008 gave them a fuel-price advantage over foreign rivals whose local currencies declined. This decline in foreign currencies increased their energy costs.
For now, airlines seem to be doing more than holding their own. Analysts and the airlines agree that they expect United States Airlines to post profits this year.